Today is National Girls and Women in Sports Day, an event celebrated on the first Wednesday of every year. Today, women's sports organizations around the country – from teams and schools to advocacy groups, and media like WomenTalkSports.com are coming together to celebrate the power of women in sport.
I've spent my entire life identifying as an athlete, and I will continue my professional path toward empowering women in athletics.
The best way to bring to life the spirit of women in sport is to show you some video. I've included some of my favorites below.
HOW TO GET INVOLVED
If you're a blogger, please participate in the NWLC's blog carnival today and tweet with #NGWSD
After watching these videos, you believe in women's sports as much as I do, please ask your Members of Congress to support the High School Athletics Accountability Act, H.R. 458, and the High School Data Transparency Act, S. 1269. Girls across the country are still not getting equal opportunities to play sports or equal treatment when they play. It's time to end that inequality.

Great video. Via espnW:
Melissa Isaacson, Marisa Moseley, Jemele Hill, Johnette Howard and Suzy Kolber review some of the key moments in women's sports history in the final installment of ESPN's Women's History Month roundtable discussion.
Here are my picks for the 2011 women's basketball tournament. If you want to join the WomenTalkSports bracket challenge, click here. Email me if you want to get involved in our pool.
The highlights:
- I have American's #1 favorite, UConn, going down in the finals to Stanford.
- I have Stanford beating Baylor in the final four.
- I have Notre Dame beating Tennessee in the elite eight (they were the only ones to beat Baylor this year)
To see my bracket, click the picture to view larger.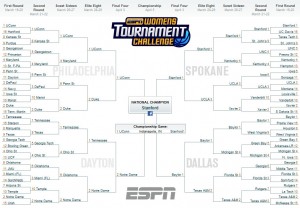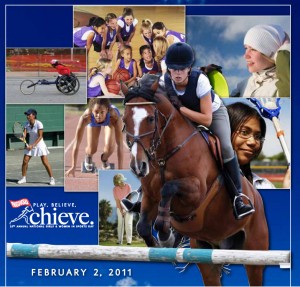 Today, I'm celebrating National Girls and Women in Sports Day by actually playing. I've got a rec game scheduled for tonight at 7pm, and play with a community of women who live in NYC and have played competitive basketball at some point in their lives (most in college). It's a lot of fun, and typically involves quite a bit of drinking afterward. Can't think of a better way to celebrate!
Also, here are some great ways to celebrate… also make sure you check back to WomenTalkSports.com for a flurry of blog posts from our network today.
Over the past couple of years, I've been searching tirelessly for real media coverage of women's professional basketball in Europe. With the exception of the athletes on Twitter, and a few sites like Eurobasket, FIBA and Basket Plus International, it's pretty safe to say that nobody in the USA really knows about the leagues or the lives of women who play professional basketball overseas during the months of August through May.
But over the past few days, this has changed. Why?
Because mainstream sports media decided to cover it. No – not because of the awesome talent, unique lifestyles or underlying stories about the market for women's basketball internationally. No, that's not worth their time.
Instead, they're casting poorly-researched opinions from their offices here in NYC about how Diana Taurasi tested positive for the drug modafinil while playing in Turkey, after an AP story ran and started a wave of rumors.
For those who don't know, modafinil is a stimulant used to treat narcolepsy, a stimulant that prevents excessive sleepiness. That's what created news about women's basketball.
Here are some examples of how sports media is serving us with this story:
To be frank, the USA coverage on this story is nothing but complete and total bullshit. Here's why:
1) The testing isn't even complete yet (they need to do two urine samples in order to conclude anything).
2) All the outlets listed above – ESPN, Slam, etc., NEVER cover the women's game in Europe.
We can never even find a freaking score. But then this week, they lead SportsCenter of with a story of an unconfirmed drug test, for a sleeping pill? Really guys??
How about this – is anyone brave enough to send someone over there to Europe? Has anyone discovered WHY these ladies are playing there every year? What kind of money are they making? (hint: for the best players, it can be 10 times their WNBA salaries). Why do they get paid this much? What are their lives like? Did Taurasi knowingly take a pill that prevents sleepiness? What would make someone want to do that? Why would she need a boost? Is this even performance-related at all?
Until someone in sports media finds the balls to ask for money to get these questions answered and told by a real reporter, I'm going to continue to hit the bullshit button on this story. It's pure speculation and really bad reporting.
12/29 Update: Note – When this was first published, I mistakenly called this drug a sleeping pill. I've adjusted the post above. It still does not change the direction of my argument, however.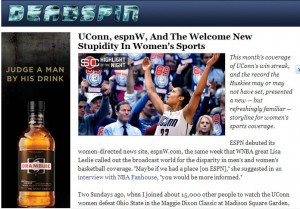 I'm just as shocked as you are.
If you read this blog, you'll know I'm typically a critical of Deadspin of their perspective on women in general, and female athletes in particular. They're always game for a good joke at someone else's expense.
But today, I read a long, thought-out perspective about the UConn women's basketball streak, from a writer who actually attended the 88th win in the Garden. The post deconstructs the idea of a "place" for female athletes in mainstream sports media. Regardless of whether or not I agree with her opinion - I especially disagree with the title of the post – I really respect author Emma Carmichael for thinking this through thoroughly. And for once, I find myself actually respecting the Deadspin editors for publishing it. Highly recommend you read it.
Personally, here's my favorite part:
Two Sundays ago, when I joined about 15,000 other people to watch the UConn women defeat Ohio State in the Maggie Dixon Classic at Madison Square Garden, I thought about that idea of "place" and of being "informed" about women's sports. I sat in the upper decks next to a mother and daughter from upstate New York. Like everyone else around me, they were big UConn fans. "What brings you here?" the mom asked me a few minutes into the warm-ups. "Do you play basketball?"

I paused. The game was to be broadcast on ESPNU; the Garden had distributed its fill of press credentials weeks in advance; some kind of Very Important Record would be tied; and here was a real, three-dimensional "place" for women's sports in one of the most beloved arenas ever built. And yet we all still needed a reason to be here.

"The hype!" I told her.
What's the reason you attend women's sports games? Are you a part of the women's sports community, or were you there for the hype? If I were a guessing person, I'd say you were there for the former, and not the latter. What will it take for the women's sports community to come together and grow?
Today, I witnessed the University of Connecticut women's team make basketball history.
Their 80-51 victory over Ohio State in the Maggie Dixon Classic at Madison Square Garden, UConn accomplished their 88th straight win, tying the ULCA men's team for the longest winning streak in basketball history.
I saw beautiful things happen this evening. UConn showcased the highest level of defense, greatest level of hustle, and best offensive cohesion that I have ever seen in the game of women's basketball. The Maya Moore/Tiffany Hayes duo looked unstoppable. For example, by halftime, Moore accumulated 20 points and Hayes had 19, while no player on Ohio State had over 8 points. In short, the Huskies made fifth-ranked Ohio State look like high school B team.
Yet, as I experienced this, I was reminded of some not-so-beautiful things that I saw this week. For example, references to illogical "apples-to-oranges" analogies that say, "There isn't such a thing as a record for all of college basketball. It's either a men's record or a women's, and never the twain shall meet." I also saw articles and tweets openly criticizing the media for not giving women's basketball any well-deserved love. While that the Huskies deserve more accolades, I'm deciding not to go down the criticism path tonight. Instead, I saw a much bigger opportunity, one that doesn't necessarily depend upon the media or fans of men's basketball.
I call it, "community."
We (the fans of women's basketball) have the power to take control of the sport and build an audience from the inside-out,. All we need to do is start talking to each other. Tonight was a perfect example of what we are capable of.
When I walked into the stadium and saw that the only open seats existed at the 400-level, I began to smile ear-to-ear. I thought, "way to show some love, New York." Those present set in the stadium set a women's college basketball attendance record at the facility, with 15,232 butts in seats. I began to look closer and see who comprised this loud, energetic group. Here's what I found:
Mostly adults – seemed equal, men and women, maybe slightly more women. Most clearly had a direct connection to the sport or to the players. I sat right in the middle of the UConn friends and family section, who are directly connected to the players. This is an example of an extremely active, highly connected, localized community. There were a lot of blue sweatshirts, tons of hugs and high five's all-around. This group clearly comes to every game and represents the foundation, or the core of the women's basketball community. Their energy and dedication keeps the sport going.
I also saw older players present like Sue Bird, Rebecca Lobo, Asia Jones, and Meghan Gardler, along with iconic coaches like Vivian Stringer. I spotted business executives from the WNBA and the Liberty, professional agents like those from MK Sports, and media members like myself, Graham Hays at ESPN, and Amanda Rykhoff over at espnW. I also saw women's basketball players overseas like Swin Cash and Tina Charles, tuning in online and tweeting their support. This represents the middle tier of the community, or those that bridge the gap between the active players and those that casually follow the game (arguably the most important group).
Last, I also spotted some fans of women's basketball. These include folks who heard about the game and decided they wanted to come experience it. Inclusive were some high school teams and coaches, who probably never come to games, but a dedicated coach realized the significance of the night and decided it was important enough for the girls to experience it. This represents the top level of the community, or the "first-timers."
So here's my argument – the Huskies were not cheated at all today. They got their well-deserved recognition. We were on our feet. The volume of support in Madison Square Garden was top-notch. Counting down from 25 seconds, everyone rose and started chanting, "Eighty-Eight! Eighty-Eight!" (see video below) The level of enthusiasm was comparable to any other professional sports game that I've experienced in my lifetime. And it came from the inside, from the core women's basketball community.
We don't need mainstream support to acknowledge achievement. All we need to do is come together and get a little louder. And we don't always need a history-breaking record as an excuse to do it. It can start with a simple conversation, an email, a comment, or a tweet. We just need to start talking.
Congratulations, UConn. Thank you for your hard work in putting women's basketball on the map, and for making this an exciting this year. Can't wait for Tuesday, and can't wait to build out my women's basketball network from the connections I made tonight, and the blog posts I'll read tomorrow.

This is a guest post from Kim Cumming, LMSW, Executive Director of The Women's Center of Southeastern Michigan. As Women's Center director, she is responsible for the administration and operation of all agency activities, including long-term planning and vision, budget management and development; program planning and evaluation; and grant-writing and reporting. Kim is currently enrolled in University of Michigan's Ross School of Business Executive MBA program.
There are often posts about Title IX and the impact it had on individual athletes, or current suits against schools for failing to meet equality standards. However, the woman behind Title IX, Jean Ledwith King, is often eclipsed by her own legacy. Jean King successfully argued that Title IX should apply to funding for athletics in public high schools and colleges. She graduated in 1968 from the University of Michigan Law School and co-founded Focus on Equal Employment for Women and the Michigan Democratic Party Women's Caucus.
King's successes fighting for equal opportunities in education, employment, athletics and politics are being honored by The Women's Center of Southeastern Michigan, Saturday March 26th 2011. To learn more about the event, please visit the Power of One: Jean L. King event page: http://www.womenscentersemi.org/jlk
King's influence has touched the entire nation through her work as an activist and attorney, and as a tribute to her accomplishments, The Women's Center's will rename the center in Jean King's name. The Women's Center is a grassroots, non-profit organization that maintains deep connections to the local communities of Southeastern Michigan. The Women's Center is committed to gender equity and provides comprehensive services for women and girls to achieve self-determination in their emotional and economic lives. To learn more about how to help the community, and ways to contribute to our cause, please visit: www.womenscentersemi.org
If you wish to honor a pioneer for women's rights and support The Women's Center of Southeastern Michigan, visit our website and contribute as you are able. All funds donated to the event will raise money for the Women's Center of Southeastern Michigan, allowing us to continue to provide our services.
To learn more about Jean Ledwith King, visit here.
- Kim Cumming
LMSW, Executive Director of The Women's Center of Southeastern Michigan
Today is Blog for Women's Sports Day – special thank-you to the National Women's Law Center for putting this together.
As I sit down here and think about what women's sports means to me, I don't even know where to start. Women's sports has become my dream, and now has become the reality of my life.
Here are just a few examples of how sport has changed my life as a woman:
When I was little, I was introduced to sport through my brother, who I wanted to beat in everything. I'm thankful for him for doing that to me.
In youth sports, I met friends who I still run into now. Countless AAU trips and camps provided incredible friends and growing experiences for me. I'm grateful to have been able to afford those opportunities.
In high school, my mom saved every single newspaper article, mention and box score and saved it in a scrapbook that I now have. I'm thankful for those community reporters, the folks in my small town who still recognize me, and for my mom for making me feel like a star.
In college, when I left my parents, I found a new family with my teammates, who became my best friends and my support network. I'm thankful for them.
After college, I started to blog on a site called TheFinalSprint.com, writing for a young man named Adam Jacobs, who believed in me and the spirit of the online track and field community. Adam's spirit lives on in me now. I'm thankful for him.
My blogging led me to a job in digital PR. I worked for Edelman, and had a few incredible colleagues who told me to start blogging about something I'm passionate about. That's when I learned about online communities and found my voice in women's sports. I'm thankful for them.
After I started blogging, I met a two people (via commenting on each other's blog posts) who were just as passionate about women's sports as me, their names: Jane Schonberger and Ann Gaffigan. The three of us got together and came up with an idea to form a go-to resource for women's sports.
After a few months, we built WomenTalkSports.com into a network, and now have over 150 dedicated contributors, are slowly formalizing our business model and beginning to work with media partners.
For my full-time job, I work at Catalyst Public Relations, and have some incredible colleagues and supervisors who believe in me and the work that I can do. I'm particularly thankful for one colleague in particular, Don Povia, also the cofounder of BlogsWithBalls, gives me hope in fathers everywhere.
I'm thankful for all of the stories that remain untold about women's sports and female athletes around the world. Because a bright future for women will allow me to go capture these stories and shine a light on them so the rest of the world can see.
Last, I'm thankful for the daughter that I'll have one day. And the opportunities in sport that I'll one day introduce her to. If I have a boy, rest assured that I'll raise him as a man that supports women in sports.
Oh, and I'm thankful you took the time to read this. Now it's your turn – why are you thankful for women's sports?
(Thank you, Michael Jordan and Lebron James, for inspiring this)….
Maybe it's my fault.
Maybe I led you to believe
That I don't deserve to play,
Or that girls don't belong in sports.
Maybe I let you think
That women's sports is easy..
Or that my whole life,
I haven't worked just as hard as the boys.
Maybe I let you think
that I'm OK with the fact

that MY championship game isn't on TV
Or on the front page.
Maybe I let you think
that I'm happy with you crediting my dad,
my husband or my coach,
and forgetting about me.
Maybe I let you think

That girls don't have passion.
That we don't get mad, kick, or punch.
or get angry at the referees.
Maybe I led you to believe
That it's OK to criticize my body, or sexuality,
And not my game.
Maybe that's my fault.
Maybe I let you think
That instead of doing an interview,
I'd rather pose naked the cover of a magazine.
Or that I'd rather be doing yoga,
Or talking about a new diet,
Than showcasing a sneaker line.
Maybe I let you think that,
Because I like baggy clothes,
Or refuse to wear makeup,
It means I'm a lesbian.
Maybe I led you to believe
That I like to play football in my underwear,
Instead of just liking to play football.
Maybe, for some reason, I led you to believe
That I don't want muscles.
Or that I can't get strong.
Maybe I let you think
That it's OK to market our events
With less effort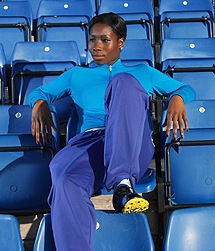 than the men's.
Or that it's OK to repair the stadium during MY season
But not his.
Maybe it's my fault that you don't see
That holding out for a better future
Is my only motivation.
Maybe I'm what's wrong with women's sports.
Or maybe…
You're just making excuses.
Awesome article in Sports Illustrated on the 2010 soccer retirement class.
GREAT quote about the women, this is worth passing along:
The 2010 retirement group helped put U.S. women's soccer on the covers of Sports Illustrated, Newsweek and Time during the same glorious week of 1999. So, thank you, Brandi Chastain, for burying your penalty kick, your jersey-waving, sports-bra-baring celebration, and the classy way you handled your moment in the global spotlight. Thank you, Briana Scurry, for your sprawling saves, your honesty in interviews,your leonine ferocity patrolling your area. And thank you, Kate Markgraf, for your defensive instincts, your leadership, and for showing everyone that world-class female athletes can balance competition and motherhood.
Women's sports pioneers are born every year. Here's to looking forward to the future.
A video was flying around the Internet this morning, and I debated all day whether or not I wanted to write about it. I chose to move forward because it's a topic that needs to be discussed.
I received the below video in an email with the title "HOLY CRAP" followed by a chain of laughter. It was forwarded to me innocently by a male friend who thought I'd find it funny. There's only one problem.. I didn't.
I was offended and embarrassed, something that I expressed to everyone in the email chain. Embarrassment is something, unfortunately, that female athletes often feel. And it needs to stop.
The below video was posted on Gawker with the title "The Most Intensely Horrible High School Girls' Hurdle Race You'll Ever See." Matt Cherette, the author, said "it had me in stitches" with a call to action to his readers – "you need to watch immediately."
With 1/2 a million unique visitors to the site per month, many Gawker readers followed through with his ask. The video went viral within minutes. The site now has over 200,000 YouTube views, which doesn't even count those that the site organically generated.
Here's the problem.. Female athletes, to be specific, young female athletes – are the victims.
Nothing about this video, in my opinion, is funny. The girls in this video are trying desperately to compete in a sport that's obviously new to them. It is crystal clear that these young girls are not coached appropriately, and because of that, their safety is at risk. This situation is in no way funny, it's scary. And the school should be held responsible.
Not to mention, the embarrassment… These girls, who are self-conscious enough at this age, are already embarrassed having gone through this experience publicly. Now, thanks to Gawker, it's amplified through mass syndication to the world. It's one thing for Gawker to pick on celebrities, but it's another to go after young kids who trying to compete in a sport. I'm willing to bet that not one of these young ladies will walk on to a track again. And with all of the benefits that sport brings to a woman's life, this, my friends, is a tragedy.
This is online journalism gone very, very bad. I share this not in an attempt to bring attention to it. But rather bring heightened awareness. Before hitting the FWD button on this video (or any others like it), people need to re-think what they're actually doing as well as its potential impact.
Mr. Cherette, you need to re-think your editorial decisions. Central Catholic High School, you need to be a lot more responsible for your high school coaching staff.